I never liked salads growing up. I think mostly because they were boring. A little bit of lettuce, some cheese, and the same old – same old dressing. What was there to like? Plus, I was always hungry an hour later. Also, I grew up in the far north of the US, where winter lasts 8 months (seriously), produce was dismal during this time and you really aren't craving a salad when it's -30F.
But when I discovered meal bowls, I was hooked. I could add in all kinds of things to make the most delicious and tasty thing I could imagine. They're also a great option for packed lunches.
Making a quinoa salad is one of the best ways to get lots of protein if you're vegetarian or prefer to eat less meat. It's quick to cook and will keep you full for hours! It also keeps it's texture even if you're storing it several days as a make-ahead lunch option.
Enter this salad that's perfect for fall. It's also great to add to any Thanksgiving theme lunch.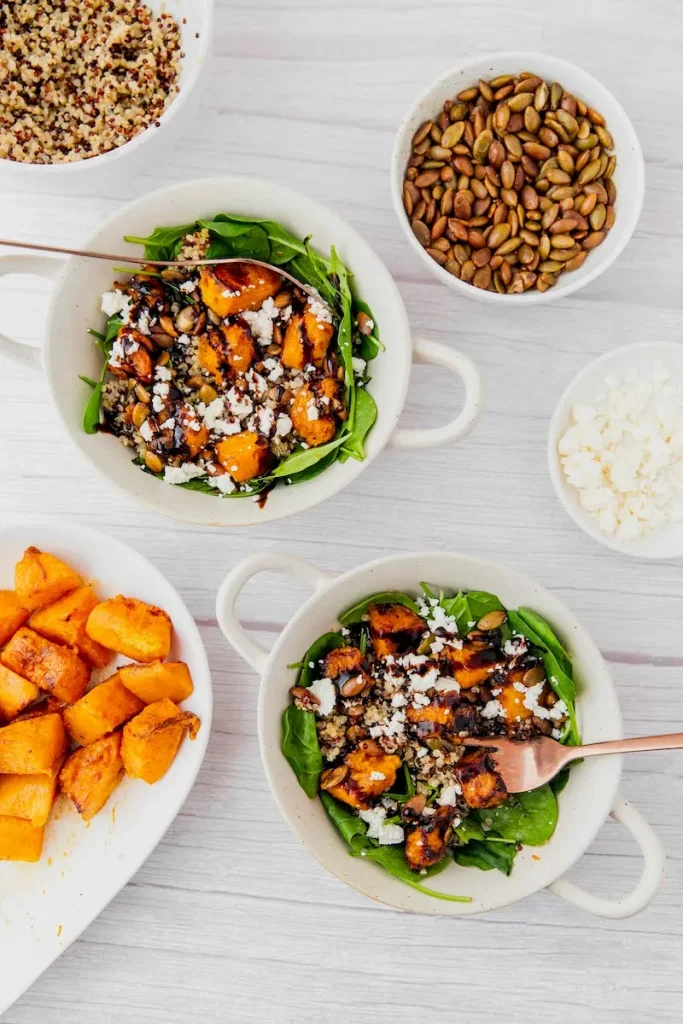 Hello, butternut squash! I searched high and low for this squash for YEARS before it became a common stable in our grocery stores. Now I get it anytime I want it, making this salad a no-brainer.
You can use any kind of squash you like, but I love how this tastes.
How to Easily Remove Butternut Squash Skin
The most irritating part of cooking this squash is peeling it. If you microwave it for about 30-45 seconds it will be much easier to remove. You can peel it with a knife or a vegetable peeler – if yours is sturdy) and voila! While the instructions of the recipe talk about chopping up with skin removed, you could also roast the squash first, until it's a little over half done and then remove from the oven, peel, and place back to continue cooking.
You definitely want this squash to be cooked through but also firm enough that it doesn't just turn to mush when you use it.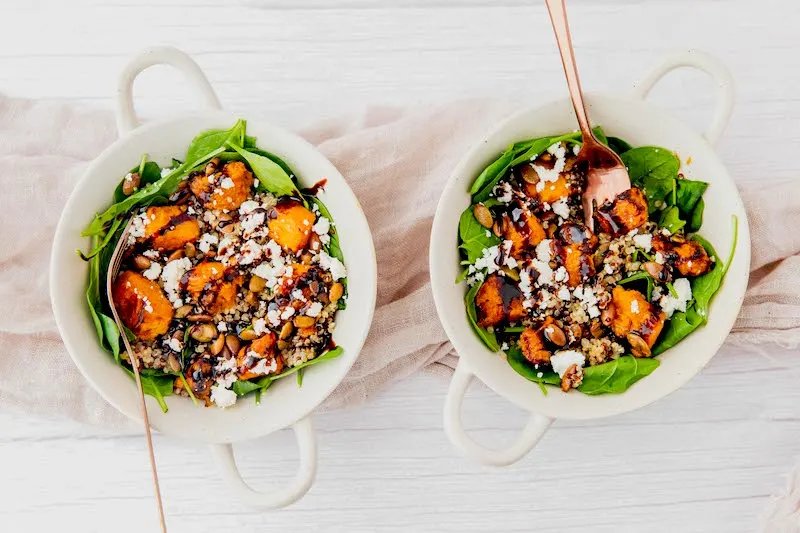 Yield: 4 servings
Fall Butternut Squash, Feta, and Quinoa Salad
In search of a perfect fall salad that uses delicious ingredients? This is it!
Ingredients
Roast butternut squash:
• 1/2 butternut squash, peeled and cut into 1/2 inch cubes
• 2 tsp extra virgin olive oil
• 1/2 tsp cumin
• 1/2 tsp salt
• 1/4 tsp pepper
Salad:
• 3/4 cup quinoa
• 1 1/2 cups vegetable stock
• 3oz (85g) baby spinach
• 1 batch air fryer butternut squash
• 1/4 cup feta, crumbled
• 1/4 cup toasted pepitas
• 4 tbsp balsamic glaze (store bought or homemade)
• Salt & pepper, to taste
Instructions
Preheat the oven to 400˚F (200˚C) and line a baking sheet.
In a medium bowl, toss butternut squash pieces with olive oil, cumin, salt, and pepper.
Spread out on a baking sheet and bake in the oven for 30 minutes or under tender and turning golden. Remove and set aside.
Meanwhile, rinse quinoa in a colander, drain, then place in a small saucepan with vegetable stock. Bring to a boil, then reduce to a simmer and cover for 10-15 minutes, until all liquid has been absorbed. Take off heat and allow to cool.
Arrange spinach leaves at bottom of the salad. Top with cooled quinoa, followed by
roasted butternut squash, crumbled feta, and roasted pepitas.
Drizzle with balsamic glaze and salt and pepper to taste and serve.