My youngest son is a very picky eater and even a little small for his age. Lately, I've been thinking a lot about ways to increase his calorie intake without it being wasted calories and junk food. We're basically at a point where we let the kid eat whatever he wants, whenever he wants.
I came up with this recipe because he loves bananas and peanut butter is a good way to get some calories and protein in that are fairly good for him. Banana cookies – why not? I am not a baker, I've said it before and I say it again! These however were my first baking success from a recipe I tweaked myself! and I'm a little proud.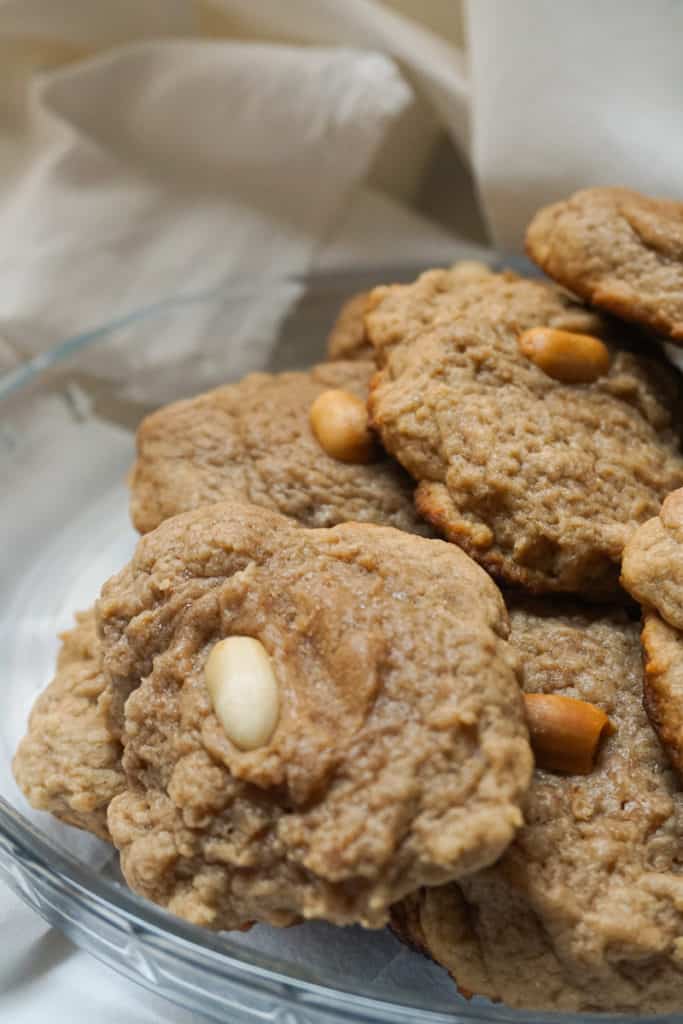 I've played with the measurements on these cookies quite a bit. If you prefer a more chewy cookie adjust the brown sugar a bit. Also, don't be afraid to let these rest in the fridge for a while. You could also easily scoop these out into balls, flash freeze them, and then bake a few whenever you want.
These banana and peanut butter cookies are versatile and you can make them your own. Shhh I won't tell if you add some chocolate chips too!
This recipe uses peanut butter but if you have an allergy in your house or your school doesn't allow peanut butter you could swap for another thick, nut butter.
Yield: 24 cookies
Peanut Butter Banana Cookies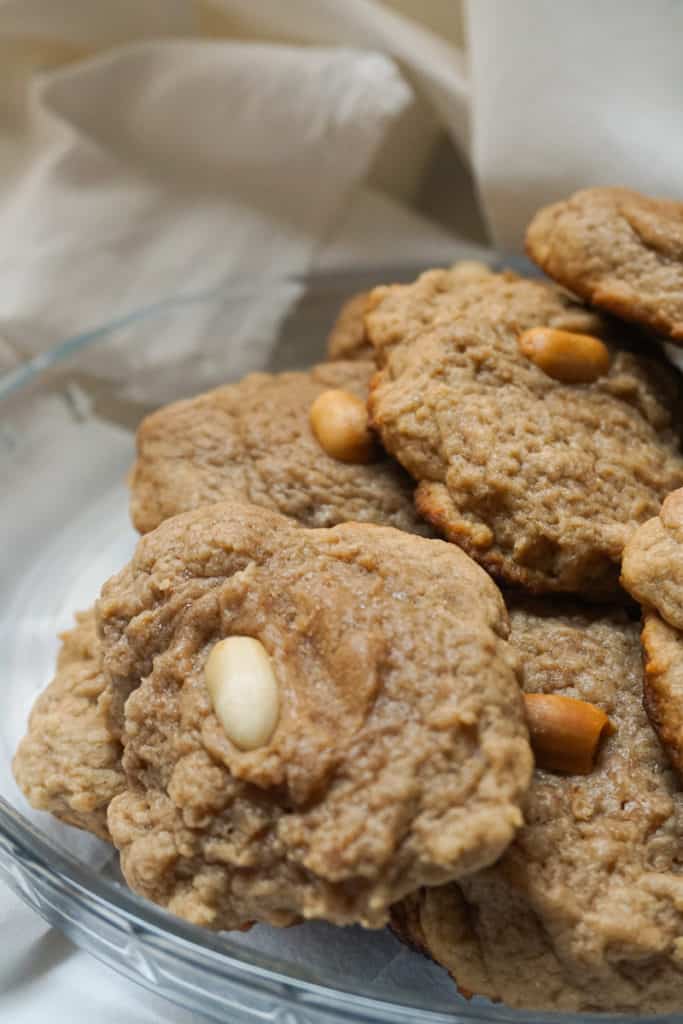 I created these cookies for a very picky eater in our house. I made my cookies on the smaller side and was able to get 24 but these can easily be made larger for more bakery-style cookies.
Additional Time
30 minutes
Ingredients
1 over-ripe banana
1 egg
1/4 cup firmly packed brown sugar
1/2 cup white sugar
1/2 cup (113g) unsalted butter
1/4 cup peanut butter
1 Tbsp vanilla extract
1/2 tsp salt
3/4 teaspoon baking soda
2 1/4c cups sifted all-purpose flour
peanuts for topping cookies (if desired)
Instructions
In a large mixing bowl add brown sugar, white sugar, egg, and butter. Cream until smooth.
Next, add peanut butter and continue mixing.
Add vanilla and banana, salt, and baking soda making sure to break up the banana as much as possible.
Slowly add flour to bring it all together.
Place the bowl into the refrigerator to chill for 30 minutes. If you leave it longer it's ok too, but a minimum of 30 minutes.
To Make More Shaped Cookies
Preheat the oven to 350F.
Take a small amount of dough, about the size of a ping-pong ball, and shape it into a ball.
Place on a cookie sheet.
You should be able to fit 12 on a large sheet. Press a peanut into the center slightly. Bake for approximately 8 minutes.
The cookies should be a light brown and still a bit soft
Remove from oven, and allow to cool for 2-3 minutes and carefully transfer to a cooling rack.
Your cookies will be moist and delicious!
If you prefer a crunchier cookie, bake a little bit longer.